Fans have commended a TikToker for showing the realities of flying as an "overweight passenger."
From Brisbane, Australia, Ali Smith posted a video in which she claims she often has to ask for a seatbelt extender but is "embarrassed" every time.
She wears compression clothing while traveling, avoids using the tray table, and hopes no one sits next to her because of the restricted sitting space.
She outlined the measures she takes to get through the trip in the video and how she is often left uncomfortable.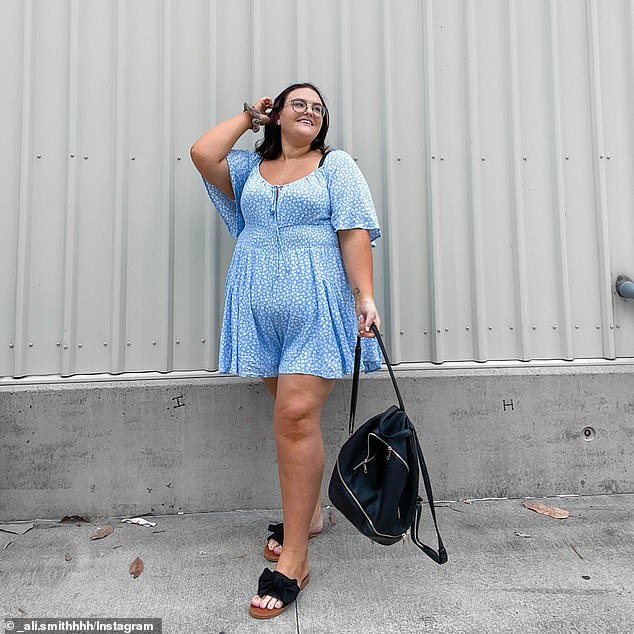 'Step one is to put on compression clothing because I couldn't breathe.' Then you'll have to decide whether or not to request a seatbelt extender,' she says in the video.
'Couldn't this problem be solved if I wasn't so big? Absolutely. Would that make for a good video? Not at all.
'I was too humiliated to ask for an [seatbelt] extension,' she said. But with a little hustling and bustling, it fit – I felt like I was about to decapitate my legs, but I made it.'
Ali then put the tray table to the test and 'didn't anticipate' to be able to use it, but she did.
'After that, I rehearsed how I would be sitting for the whole trip so I wouldn't intrude on the person next to me,' she added, crossing her left arm over her torso and clutching it with her right palm.
The middle seat was unoccupied on this trip, which Ali appreciated since she had more space throughout the journey.
The video went viral overnight, with over 1.3 million views, and others were relieved to know they weren't alone in feeling humiliated about asking for a seatbelt extender.
'Thank you for sharing this – I sobbed on my Qantas trip because the table wouldn't go down, and the extension was required,' one commenter commented.
'I was traveling for the first time in several years and was overthinking everything, so thank you for helping me feel like I'm not alone,' said another.
'Thank you for normalizing this!!' remarked a third, praising Ali. When it comes to flying, I've never heard someone speak about their challenges and worries!! 'I like your candor!'
Several flight attendants also chimed in, saying there's 'no shame in requesting a seatbelt extension.
'I'm a flight attendant,' she says. And we're taught to surrender the belt quietly, even if wearing one isn't humiliating! One flight attendant said, "Those belts are incredibly little!"
'As Jetstar staff, please do not hesitate to ask for an extended seatbelt, there is no shame about it, and we are more than delighted to assist,' another said.